BECAUSE YOU NEED ANSWERS FOR TOMORROWS QUESTIONS
Consulting - Technology - Global Marketing - Project Management - Program Development
ABOUT CULBERTSON & CO.
Culbertson & Co. provides superior goods and services affording the Culbertson & Co. customer the tools and abilities necessary in realizing successful projects.
Culbertson & Co. utilizes its' institutional knowledge of business systems, political operations, international trade, science, construction systems, governmental systems and processes, key political contacts, corporate understanding and contacts as well as investigations and analysis to better position the Culbertson & Co. customer to function with efficiency in the supported undertaking.
The Culbertson & Co. approach is comprehensive and focuses on researching the particular situation or project, discussing what is necessary for the desired outcome, developing innovative and relative solutions and then assembling the information to support proper justifications for the decisions that are required to obtain the desired outcome(s).
The Company's corporate knowledge and skills span many areas of expertise and are utilized to identify potential solutions and make recommendations that can allow Culbertson & Co. clients to operate in an efficient and effective manner.
Culbertson & Co. associates have managed foreign and domestic operations in the areas of operational security issues, political systems, compliance issues, finance, data mining, strategy formation and implementation, media operations, public relations, industrial process, engineering and design, logistics, intelligence and analysis, trade and governmental relations.
While there can be no guarantee as to any particular outcome, Culbertson & Co. solutions can help the client achieve results.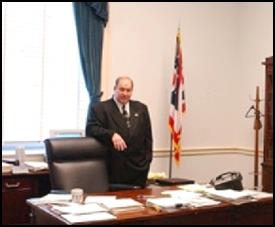 John Culbertson, the Chairman of Culbertson & Co. is the former Administrator of the 17th Congressional District of Ohio (107th Congress - 2002) and in that role provided representation for the people of the district as he was appointed to serve in that capacity when the seat became vacant late in the 107th Congress.
Mr. Culbertson has personally served in the United States Federal Government as a Principal Investigator to a Congressional Sub-Committee Chairman investigating domestic terrorism, Legislative Assistant, Legislative Director, Senior Special Assistant and Chief of Staff and Administrator in the legislative branch.
Mr. Culbertson has personally provided representation and consultation to law enforcement groups, authored reports on terrorism and has testified before Congressional Committees and in major cases at law.
Culbertson & Co. utilizes Senior Level Specialists who build upon our superior levels of expertise and extend Culbertson & Co. capabilities to better serve those customers who require capable assistance in this area.
Culbertson & Co. has represented projects before numerous governments and agencies, has provided consultation and legal support services on a number of criminal cases both in the US and worldwide and routinely consults in corporate business process and policy cases. The firm actively provides consultation on policy formation and strategy issues on an international basis.
Culbertson & Co. provides expert and superior counsel and advisory services to government agencies and leaders. Culbertson & Co. routinely provides consultation to leadership in several countries as well as to leaders of emerging democratic movements.
Mr. Culbertson routinely provides consultation and assistance to humanitarian workers around the world who may require assistance.
Culbertson & Co. associates are generally drawn from the ranks of former legislators, international corporate management, the diplomatic corps, cabinet ministers as well as highly skilled and proficient private sector areas.
Culbertson & Co. operatives have a wide range of both public and private sector experience.
There is wide range of experience to draw from in the areas of governmental and political affairs, finance, marketing and international business development.
In the past Culbertson & Co. operatives have hands on experience among a wide range of countries including: Australia, Belgium, Brazil, China, Columbia, Croatia, Cuba, Democratic Republic of Congo, Egypt, Fiji, France, Germany, Ghana, India, Iraq, Israel, Kuwait, Liberia, Mexico, Mongolia, Netherlands, Nigeria, Pakistan, Peru, Philippines, Poland, Serbia, South Africa, Spain, United Kingdom and of course the United States.
Culbertson & Co. has provided services in the areas of: Banking and International Finance, Customs Systems and Enforcement, Terrorism, Electronic government systems, Energy, Infrastructure Solutions, Conflict Resolution and Post Conflict Reconstruction to name a few.
Culbertson & Co. clients receive the superior and effective solutions essential to enhance operations and arrive at desired outcomes.
CASE STUDY – Monter Joint Stock Company
Culbertson & Co. recently completed representation and management of business affairs in the United States for Monter Joint Stock Company of Zagreb, Croatia in a letter of credit matter dating back to the 1980's.
The letter of credit was issued by the New York Agency of a Belgrade based bank as guarantee of payment for a 1,000-bed hospital which Monter Joint Stock Company constructed in Norilsk, Russia.
Under the direction of Culbertson & Co. Monter was able to recover beneficiary proceeds from a letter of credit draft in 1989, a period when sanctions were in place against the former Yugoslavia. The benefits were finally paid out in early 2014.
After years of complex efforts which required forcing dismissal of an ancillary bankruptcy proceeding in the Southern District of New York, complex negotiations with regulators including the Department of Financial Services of the State of New York a settlement was finally obtained.
The initial settlement offer was approximately twice the claim amount and the settlement included giving Monter priority over other claimants.
Additional Forensic Results
The case required examination of many complex and confusing records from the New York Agency and the bank in Belgrade.
A number of unorthodox transactions were flagged and catalogued indicating that the bank had hidden assets in the Agency bank and were using the ancillary proceedings in bankruptcy court to shelter funds.
Upon analysis of the transactions by Culbertson & Co. it was determined that a valid claim existed for funds held by the State of New York which were applicable to the Treaty on Succession and as a result each of the Succession States had a valid claim on the funds.
Culbertson & Co. notified the succession states and this resulted in an agreement between Serbia and the Succession States to allow recovery by the Succession States of funds which were hidden and held by the defunct National Bank of Yugoslavia in accordance with existing treaty provisions.
Energy Sector Innovations
Culbertson & Co. through its Advanced Carbon Modeling Project is opening new markets in the energy sector with specific fuel amendments to improve performance and emissions.
Culbertson & Co. fuel catalysts provide a proven benefit by reducing fuel consumption in diesel and gasoline powered vehicles. These amendments as we call them provide for more complete combustion of fuel oils and naphthalene based fuels (gasoline) by increasing the velocity of combustion, carbon atom stripping earlier in the reaction to provide for a more complete burn at a lower ignition temperature with full expansion thus delivering the same power output with a five percent or better reduction in fuel consumption.
These products also reduce particulates significantly as well as reducing oxides of nitrogen, unburned hydrocarbons and other emissions.
These products are registered with the EPA and have received significant testing by various agencies as well as major engine manufacturer approval.
Culbertson & Co. has also developed a proprietary set of methodologies to record and bank carbon emissions from the catalyst project into high grade carbon offset credits which may provide users with an additional stream of revenue.
In addition to fuel chemistry improvements Culbertson & Co. also markets a line of petroleum spill remediation products with Culbertson & Co. is currently developing next generation remediation products to be introduced in Q1 and Q2 of 2018.
Why I developed National Fuel Enhancement, Fleet Fuel Enhancement and Industrial Fuel Enhancement
For more information go to: www.acmproject.com
Washington, DC 202-315-5858
© 2003 Culbertson & Co. All rights reserved.